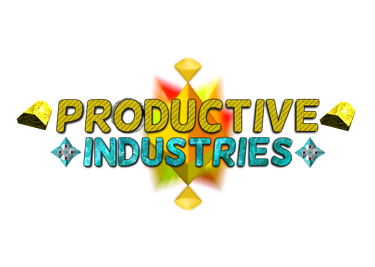 Productive Industries -- Official Item & Mechanic Encyclopedia
This Wiki is sustained through the many contributors of the game! Feel free to contribute!
Productive Industries
is a game created by the speed-Studio development team. In this game, you use your wits and smarts to build an ultimate mechanical factory for
resources
and funds! You are able to purchase many items in the shop and unlock many packs for a place in the game's leader board. When you contribute to this wiki, you are helping expand the knowledge base crafted carefully by the players!
Therefore, it is essential that you are aware of the fact that this page contains spoilers AND other information on future game content that you have not discovered yet.

If you wish to complete the game without prior knowledge, this is your only chance to turn away.
Connect!
There are several places where you can connect directly with the fan base responsible for writing this wiki and even the developer of the game!
Firstly, the developer's Twitter can be used to gain first access to some codes!
Don't forget to join the discord server here ! This is where you can chat directly to everyone, 24/7!
Extreme Mode
Extreme Mode or Gate to Oblivion is a harder version of both normal mode and easy mode that comes equipped with a sandbox gamemode that lets you place and use any items you have unlocked! You can even spawn in later versions of shop items for testing setups!
Images to all items are contained in the PI Images ZIP file. This file gets updated on a non-regular basis. Get it here! Click here!